Ekiti Govt. Signs MOU On 1.15MW Independent Power Project.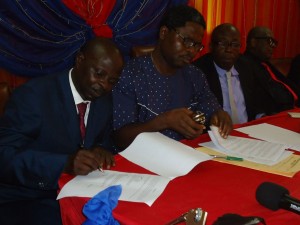 Ekiti State Government has signed a Memorandum of Understanding (MOU) with a United Kingdom based company, Elemi Energy Limited for the installation and development of a 1.15 Megawatts (MW) Solar Photo Voltaic (PV) Farm in the State through Public Private Partnership (PPP).
The Solar PV Farm is to be built on 14,000 Square Metres of land belonging to the Broadcasting Service of Ekiti State (BSES), owners of Ekiti Television (EKTV) and Ekiti Radio 91.5FM, with an agreement to provide free 150 Kilowatts to power BSES installations and equipment for 20 years.
Elemi Energy Limited, which will handle the power project through its subsidiary in Nigeria, Elemi Power Solutions Limited, will also sponsor training of five engineering staff of BSES in the United Kingdom for the operation and management of the 150KW power plant.
The PPP project, which is to cost over N500 million as Foreign Direct Investment (FDI) into Ekiti State, was approved by the State Governor, Mr Ayodele Fayose in June, this year as part of the governor's commitment to rapid infrastructural development in the State.
The MOU signing was witnessed by the State Commissioner for Information, Youths and Sports Development, Hon Lanre Ogunsuyi; Permanent Secretary Ministry of Justice, Mr L. B. Ojo; Permanent Secretary Ministry of Information, Youths and Sports Development, Mr Kola Ajumobi, Chairman, Ministry of Justice's Director of Legal Drafting, Mr. S.B.J Bamise; Managing Director/Chief Executive Officer, Technical Director and Director of Elemi Energy Limited, Chief Osa Osunde, Mr. David Olofin, Mr Tasos Tzatzalis and Mr Abimbola Ladejo respectively.
Special Assistant to the Governor on Public Communications and New Media, who is also the Acting Director General of the BSES, Lere Olayinka said the project, when completed will ease the broadcast stations of the burden of power supply on which over N5 million is expended monthly.
He said the transformer supplying electricity to the station stopped working since May, last year, making the Television and Radio Stations to be running on generator 18 hours daily.
Speaking on behalf of the power company, Mr Olofin, who expressed gratitude to Governor Fayose for his prompt approval of the project, said the project will be completed within nine months after flag-off.
He said upon completion, the 1MW will be sold to the Benin Electricity Distribution Company (BEDC) and other interested private individuals and organisations in Ado-Ekiti, the State capital.
Also speaking, the Commissioner for Information, Youths and Sports Development called on other private investors to come to the State, describing the power project as one that will open gate for more PPP towards the development of Ekiti State.
He commended the BSES management for initiating the project, which he said will bring a permanent end to power supply problems in the station.