Ekiti To Rejuvenate Science Education…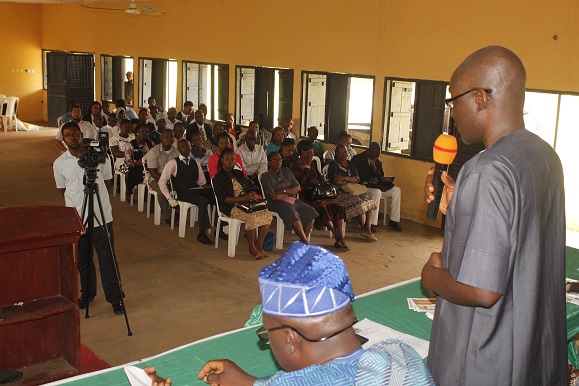 …organizes intensive training for science teachers.
Ekiti State Government has re-emphasized its resolve to boost science education in its schools by ensuring that science and other core-subjects teachers who are critical stakeholders in achieving this goal are properly motivated and also giving intensive capacity building through training and re-training programmes to improve their
performance.
The Deputy Governor, Dr. Kolapo Olusola reiterated this at the official opening of a 5-day Practical Training for Science Teachers in Public and Private Secondary Schools in Ekiti State at the Government College, Erinfun  in Ado-Ekiti. Dr. Olusola who commended the teachers for doing the state proud in the overall performance of students at the 2016 National Examinations conducted by both the West African Examinations Council (WAEC) and National Examinations Council (NECO), stressed that the feat had further endeared them to the Governor, Mr. Ayodele Fayose. He said that the training was organized to further prepare the Science Teachers ready to positively enhance better performance of the students in future examinations, with a charge to consider themselves as learners throughout the course of the training to bring out the desired goals.
The Deputy governor expressed his confidence in the arrays of resource persons selected for the programme, describing them as well qualified and most suitable as resource persons for the training based on their vast experiences in their various chosen science subjects.
While responding to some questions from participants, Dr. Olusola promised to meet with the principals of Private and Public Secondary Schools and adequately enlighten them on the need to update their Science Laboratories.
In her welcome address, the Permanent Secretary, Ministry of Education, Science and Technology Dr. (Mrs.) Adekunbi Obaisi said that government of Mr. Ayodele Fayose has doubled its efforts at raising the standard of education, which was seen as the major industry of Ekiti State.
Dr. (Mrs.) Obaisi stressed that the training started early this session to prepare the teachers for the great tasks ahead, with a charge to the participants to take the training seriously in order to actualize the dreams of the government in the Education Sector.
Responding on behalf of the resource Persons and the teachers, A Chief Examiner in Chemistry with WAEC, Mrs. Margaret Longe and a Physics teacher from Ado-Grammar School, Mr. Michael Oluwasusi respectively assured the state government of their commitment to the success of the training.